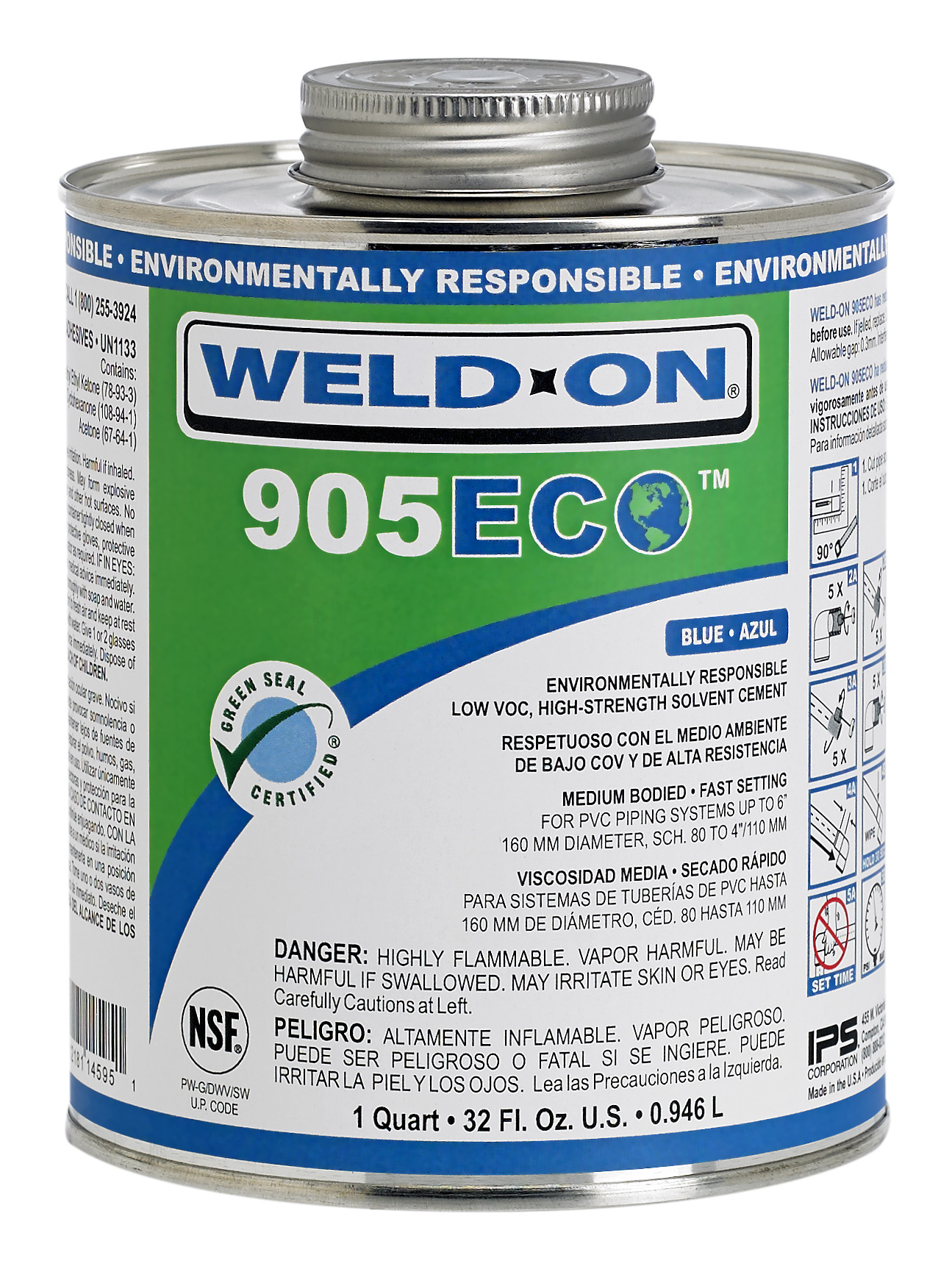 "After using Weld-On's 905ECO, we immediately noticed the application was smooth and there was noticeably less odor than other "Blue" solvents on the market. The guys love it!" – Joe Swett (President of Sunrise Irrigation)
Weld-On® 905ECO™
Weld-On® 905ECO™ is the first environmentally responsible cement in the industry that has significantly less solvent emissions and reduced odorous fumes than the current solvent cements in the market — resulting in an improved workplace environment for pipe installers.
The 905ECO is a blue, low VOC, medium bodied, fast setting, high strength PVC solvent cement for all classes and schedules of PVC pipe and fittings through 6″ (160 mm) diameter interference fit, including Sch. 80 to 4″ (110 mm).
* This PVC solvent cement is certified by Green Seal™ for Environmental Innovation for effective performance, reduced health hazards, and use with potable water. GreenSeal.org/GS20
** This product contributes toward satisfying Indoor Environmental Quality (EQ) credits for LEED® v4.
Weld-On® 905ECO™ FAQ
Weld-On® 900ECO™ / 905ECO™ Flyer
Weld-On® 905ECO™ Short Spec
Product
Weld-On® 905ECO™
Available Colors
Max Recommended Pipe Size
(Interference Fit)

6″ (160 mm)
4″ (110 mm)
Sch. 80 – PN 10 & 16

Relative Set Time
Fast
Applicable Performance Specification

SCAQMD Rule 1168/316A
ASTMD2564
NSF/ANSI 14
NSF/ANSI 61
LEED v4 **

Industry Listings
Classes, Schedules & Types
All Rigid / Flexible PVC
Shelf Life
4 Years
Available Sizes

Gallon (#14594)
Quart (#14595)
Pint (#14596)
1/2 Pint (#14597)
1/4 Pint (#14598)
Download Documents

SDS
Product Bulletin