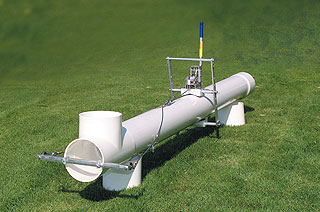 Pipe and Fitting Puller: Its innovative design makes aligning and joining large diameter pipe and fittings easy and reduces installation time in half as compared to the manual method. Suitable for PVC, CPVC, ABS and other plastic piping systems, this remarkable tool is lightweight, durable and can easily be operated by one man. Click here for directions.
Positive gripping unit will not crush or crack pipe and fittings.
Unique center-line attachments assure proper pipe and fittings alignment.
Powerful winch easily pulls and bottoms pipe into fittings and holds freshly solvent-welded joint in place for curing.
Puller unit is portable and user-friendly. Can be used in a trench or on pipe rack.
Available in two models:
P-0412 for nominal pipe diameter 4″-12″ (Part #:12816)
P-1420 for nominal pipe diameter 14″-20″ (Part #:12815)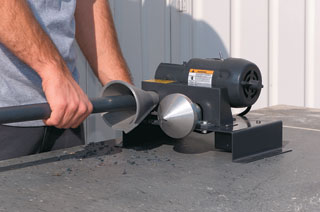 Mounted Power Beveling Tool: Beveling the pipe outside and inside diameters can be done in seconds by gently pushing the pipe into the angled beveling and deburring aluminum cones equipped with high speed steel cutter blades. Steel base plate can be clamped or bolted to the work bench for stability. Designed for use on thermoplastic pipe with nominal pipe diameter 1/2″ CTS – 3″ IPS.
Model: MPB-2000 (Part #:12863)