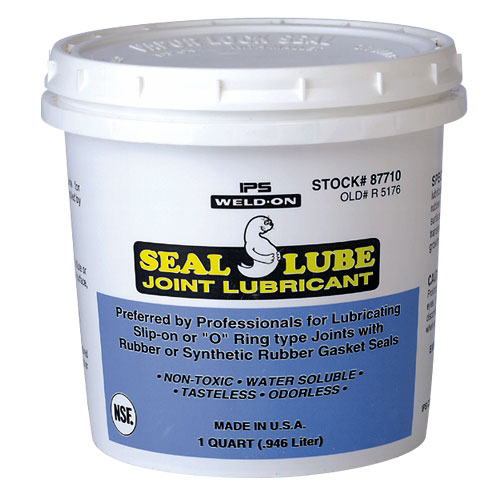 Seal Lube Gasket Lubricant
Primes and lubricates slip-on or "O" Ring type joints with rubber or synthetic rubber gaskets. Non-toxic and non-corrosive. No taste or odor. 100% water soluble.
Product
Seal Lube Gasket Lubricant
Industry Listings
Available Sizes

Gallon (#87715)
Quart (#87710)
Pint (#87705)
Download Documents

SDS
All Seal, Blue Seal, and White Seal can be used on metal and plastic piping systems carrying: air & gases (compressed, manufactured or natural), ammonia, brine, acid (diluted), caustic alkalis (diluted), corrosives, freons, fuel (diesel, gasoline, jet fuel, and kerosene), oils, petroleum, propane, solvents, steam, sugar, and water. Not recommended for oxygen, fluorine, or liquid sodium systems.
505 Key Tite can be used on metal piping systems carrying: acids (diluted), air (compressed or gaseous), alcohols, alkalis (diluted), brine, caustics (diluted), gases (manufactured or natural), low pressure steam lines, sugar (liquid), and hot or cold water.