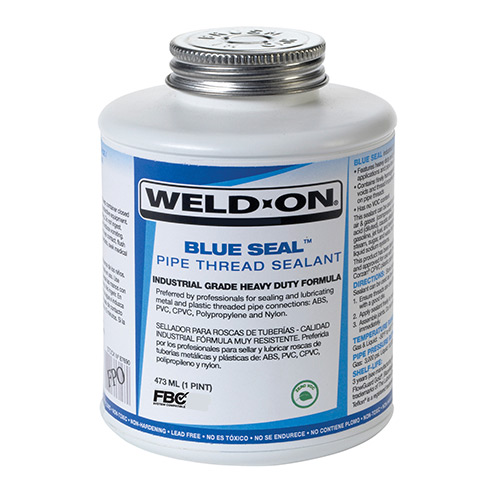 Blue Seal™
Industrial grade sealant
Heavy duty, grit-free formula. Excellent for industrial applications and pipe lines in high vibration environments.
Contains finely homogenized PTFE particles for filling cracks and thread imperfections – ensuring leak-proof seal.
For sealing and lubricating all metal and plastic (ABS, PVC, CPVC, Polypropylene, & Nylon) piping systems carrying various materials.
FBC™ System Compatible indicates that this product has been tested, and is monitored on an ongoing basis, to assure its chemical compatibility with FlowGuard Gold®, BlazeMaster® and Corzan® piping systems and products made with TempRite® Technology. The FBC System Compatible Logo, FBC™, FlowGuard Gold®, BlazeMaster®, Corzan®, and Temp Rite® are trademarks of Lubrizol Advanced Materials, Inc. or its affiliates.
No VOC content.
Product
Blue Seal™
Industry Listings
Shelf Life
3 Years
Available Sizes

Quart (#87695)
Pint (#87690)
1/2 Pint (#87685)
Download Documents

SDS
Product Bulletin
All Seal, Blue Seal, and White Seal can be used on metal and plastic piping systems carrying: air & gases (compressed, manufactured or natural), ammonia, brine, acid (diluted), caustic alkalis (diluted), corrosives, freons, fuel (diesel, gasoline, jet fuel, and kerosene), oils, petroleum, propane, solvents, steam, sugar, and water. Not recommended for oxygen, fluorine, or liquid sodium systems.
505 Key Tite can be used on metal piping systems carrying: acids (diluted), air (compressed or gaseous), alcohols, alkalis (diluted), brine, caustics (diluted), gases (manufactured or natural), low pressure steam lines, sugar (liquid), and hot or cold water.