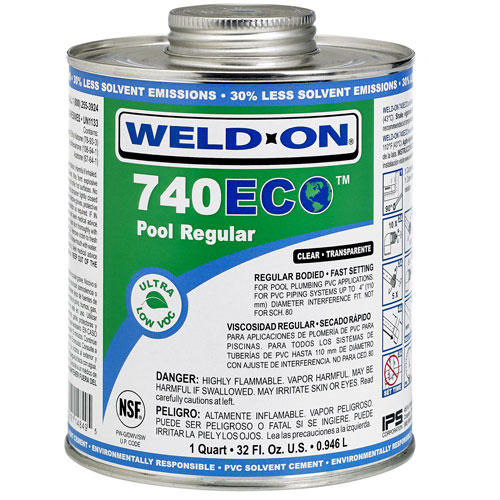 Weld-On® 740 ECO™ Pool Regular
WeldOn® 740 ECO™ Pool Regular is an environmentally responsible cement with 30% lower solvent emission rate and significantly reduced odorous fumes than the current solvent cements in the market – resulting in an improved workplace environment for pipe installers.
The 740 ECO is a clear, ultra low VOC, regular bodied, fast setting, high strength PVC solvent cement for all classes and schedules of PVC pipe and fittings with interference fit through 4 inches (110mm) diameter. Not for Schedule 80.
** This product contributes toward satisfying Indoor Environmental Quality (EQ) credits for LEED® v4.
Product
Weld-On® 740 ECO™ Pool Regular
Available Colors
Max Recommended Pipe Size
(Interference Fit)

4″
(110 mm)
Not for Sch. 80

Relative Set Time
Fast
Applicable Performance Specification

SCAQMD Rule 1168/316A
ASTM D2564
NSF/ANSI 14
NSF/ANSI 61
LEED v4*

Industry Listings
Classes, Schedules & Types
All Rigid / Flexible PVC
Shelf Life
4 Years
Available Sizes

Gallon (#14848)
Quart (#14849)
Pint (#14850)
1/2 Pint (#14851)
Download Documents

SDS
Product Bulletin